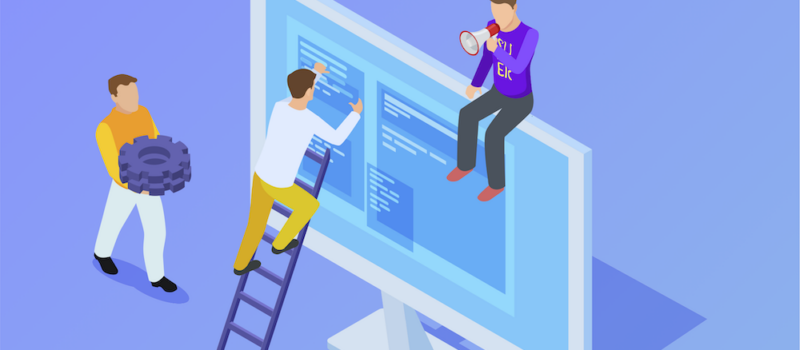 Workplace technology changes rapidly and gets more complex by the year. Whereas the bulk of work-related computing once took place within the office walls and inside a secure perimeter, today's distributed workforce conducts business from homes, coffee shops, cars … literally anywhere with internet access.
Supporting and securing the myriad devices and access points workers now rely on to stay productive has created a lot more work for IT teams that often are already spread too thin.
The current economic climate is also adding pressure on IT. Businesses are laser-focused on managing costs and streamlining processes to maximize efficiency so they can continue to innovate and stay relevant in the marketplace.
Many organizations are turning to managed IT services to help control costs; increase ROI; take the pressure off of IT teams; and protect sensitive data, systems, and applications from ever-evolving cyberthreats.
What are managed IT services?
In a nutshell, managed IT services is the outsourcing of some or all IT operations and functions to a third party. Organizations turn to managed services providers (MSPs) for a variety of reasons, but most commonly, they are employed by organizations with no internal IT team or those that want to use their in-house IT professionals to focus on certain initiatives rather than operational responsibilities for managing technology.
MSPs provide a vast range of services from the basics — such as help desk support and keeping IT equipment and services functioning — all the way up to providing the full suite of IT capabilities, including cyber security, internet connectivity, application support, data backups, and disaster recovery.
What are the different types of managed IT services?
Not every organization wants or needs the same level of MSP involvement, so it's important for the organization and the MSP to work together to define who will be responsible for what.
The first step in identifying your organization's particular needs is to understand the many different types of managed services that are available. Here is a quick look at some of the most frequently outsourced IT services:
Technical support
Tech support is one of the most common reasons companies hire an MSP. It can take up to eight people to staff a schedule that can provide 24/7 basic support and IT management. This reality is often why business leaders look to partner with a provider.  Technical support services usually include help desk support for users, basic system monitoring and management, and patching and software upgrades for core IT elements.
Public, private, and hybrid cloud services
An MSP can create a roadmap for a cloud infrastructure optimized for your organization's applications and data. Once you nail down the appropriate cloud environment, your MSP can help with data migration; establish access management policies for cloud-based applications and platforms such as Azure and AWS; and support integral IT functions including compliance, network security, and backup/disaster recovery.
Network and infrastructure management
Effective network and infrastructure management is key to securing company data and maintaining efficient business operations. The MSP will be responsible for all network administration needs including security, backups, storage, establishing connections, monitoring and troubleshooting connection issues, and managing remote network access.
Security
When you trust security management to an MSP, you can get state-of-the-art ongoing protection for your computers, network, mobile devices, applications, infrastructure, and sensitive data. Security services include virus protection, intrusion detection, anti-malware technology, and around-the-clock monitoring and alerting.
Print services
Outsourcing print services can help you streamline complicated data and file infrastructure management and reduce printing costs. Print services normally include printer maintenance and repair, upgrades, device support, and regular audits to identify cost savings.
Cloud and SaaS management
Managed cloud services provide support for all of your cloud-based applications and systems, including computing, remote network access, storage, virtualization, file sharing, and security.
Some MSPs offer software as a service (SaaS) options such as Office 365 and Salesforce. You don't have to go through an MSP to use SaaS platforms, but if you do, it will help with installation, configuration, troubleshooting, and customization to ensure the programs meet your organization's specific business needs.
Backups and data protection
As cyberattacks become more frequent and more damaging — and the penalty for not adequately protecting user and employee data becomes more severe — you can't afford to scrimp on backup and data protection services. Your MSP can implement a backup strategy that protects your on-premises and cloud environments and automates backups so your data is fully recoverable in the event of a disaster.
Collaboration and communication services
With remote work being the new normal … ish, effective collaboration and communication systems have never been so critical. Managed communications and collaboration services provide reliable connections for employees and customers and include technologies such as messaging, VoIP, video meetings, and email.
Your MSP can set up and manage platforms such as Microsoft Teams, Google Meet, and Zoom to ensure a high level of security and maintain stringent access control policies.
Business intelligence and data analytics
Business intelligence and data analytics are crucial for improving business performance. Your MSP can take raw data about the performance of your IT systems and turn it into information and insight that can be used to improve operations and sales and marketing strategy decisions.
What are the benefits of partnering with an MSP?
The list of services discussed above is far from exhaustive, but it does provide a high-level look at the IT services that can easily be moved off of the internal IT team's plate to a trusted third-party services provider.
If you're still on the fence about whether hiring an MSP is a smart business decision, consider the top 10 benefits of partnering with another company for your managed IT services:
Free up IT to work on business improvement and innovation
Manage the complexity of your IT environment
Reduce risk with access to top-of-the-line security
Create a proactive rather than reactive IT culture
Save money
Increase scalability
Access technical expertise
Minimize downtime
Maintain compliance
Gain access to the latest technology
How can IT Weapons help?
IT Weapons has more than two decades of award-winning experience helping organizations meet their IT operations, security, and business intelligence goals. With an award-winning service desk and technical support, complete network and internet connectivity management, turnkey disaster recovery and data protection, and a comprehensive reporting and business intelligence portal, IT Weapons has all of your IT services needs covered.
IT Weapons offers a full spectrum of ITIL-certified support and a huge range of services from basic IT tasks to advanced services, such as:
SOC 2 Type II certification for the strictest security and compliance demands
100% Canadian data protection
System monitoring, maintenance, and infrastructure support
Public, private, and hybrid cloud services
Business continuity, backup, and data protection services
Connectivity and network management
Full security services
The Insight Hub, IT Weapons' comprehensive reporting and BI portal
In this era of uncertainty, businesses are faced with the daunting task of doing more with less while not falling behind in innovation. With the sudden shift to remote work accelerating digital transformation, partnering with the right managed IT services team can help companies keep pace and achieve their business objectives by focusing on growth instead of the day to day.
Managed IT services are far from one-size-fits-all, so partnering with an MSP who understands your business and is actively invested in helping you meet your goals is essential.