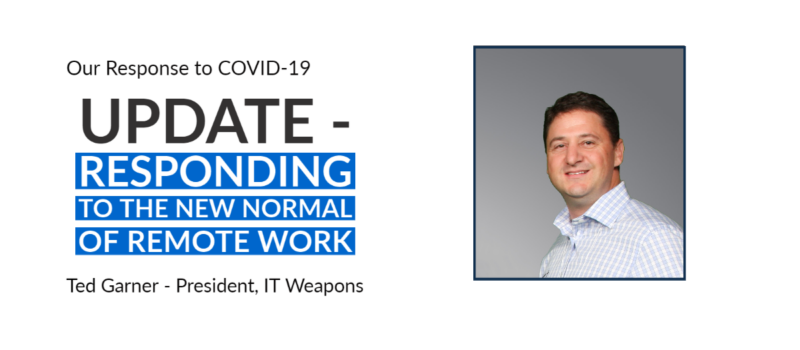 May 11, 2020 Update – Not a Sales Chat or some new Service we offer.
This is about you and your team – and our jobs as Leaders and Mentors.
Sometimes we can get caught up in the client facing side of things or financial performance of the company. Both very important but I want to focus on our teams.
In these crazy times, with people being bombarded with negative news constantly, our job as leaders is to help with clarity, focus and most of all keeping our teams calm, connected and safe.
My advice, firstly, is to start by choosing your posture during this new normal. It's likely one of 2 – conservative or aggressive.
For my team, we were born in recession during the dot com bubble burst – back when it was just a few people who met daily at Tim Horton's to plan our days. We made our biggest leap of faith 9 years later – moving to our current office (6x the space (and cost)) during the economic crisis of 2008-9. Today, it's no different; when times get tough, we don't turtle – we invest – we grow. A bit of soapboxing, I know but – it's our origin story and we stay true to it. My team knows this is what we do. We talk this talk and we walk this walk.
Next, communication, in this time of WFH insanity is crucial. Not just FYI-like emails. We need to connect with our teams – share our home stresses, inspirations, what is happening, what we are going to do about it and WHY. I love a recent video by #SimonSinek – he said we are all in a dark tunnel. We can see the light at the end – we just don't know how long it will take to get there. We can't control that. What we can do is adapt and evolve THIS train we are riding in. We can affect what it will look like when it bursts out of the tunnel into the daylight (I love that image). That, in a nut shell, in my opinion is what we should all be doing – communicating about adapting/evolving – not turtling. And every comm should be about the team and how we will get through this *together* as ONETEAM. And of course Ça va bien aller!
One further piece of advice – every event you were doing needs to be rethought into virtual versions. For years, we had been doing a dozen annual kick offs across the country this time of year. Not this year. This year, we have been doing virtual versions and evolved them into weekly talk show like webcasts. This has been super successful.
Another thing is around embracing 'the tools' – whether its #Cisco, #Microsoft, or #Zoom – for meetings and chat – get them evolving too. We have a series of cool virtual rooms for things like WFH Recipes, v-pubnights, v-gamenights, v-fitness, WFH best practices, our vWatercooler and oh, this one is cool: In our 'WepTunes Chat', we submit our fav songs and why/how they inspire us – those songs go into a #Spotify playlist that we can listen to and when a person's song comes on – you can picture that person and their inspiration story. Love that.
I didn't mean to post this long – but, I will leave you with this thought – I was on an exec update chat with a peer discussing stress in the WFH world. We obviously agreed that being empathetic to our teams' stress was crucial. They may have young kids and they have to keep them busy, fed and inspired. Or they could have a spouse that has been laid off or just super worried they are going to be next. Essh. Or maybe they have a family member that is ill and they can't help from a distance. You never know what stress someone else is living with – AND having to stay productive for us – extra stress. Flex those empathy muscles, my friends – and be flexible.
Anyway, I hope you all are doing ok and looking out for each other – and keeping your family and your teams safe.
Sincerely,
Ted
---
March 25, 2020 Update – IT Weapons remains open and optimistic. We are actively supporting and helping clients to adjust to the new normal of widespread remote work and cost control measures. Just doing so from our homes, amid occasional disruptions from kids and pets!
Over the past two weeks, there have been some drastic changes announced by provincial and federal governments regarding social distancing and the shutting of non-essential services.  Since we have these capabilities, aside from our key essential folks who need to be onsite for emergency work, our entire team is working from home until further notice.
We are able to implement these measures thanks to the tools we have in place to maintain collaboration and human connection in times of such disruption.  WebEx for video conferencing, Microsoft Teams for realtime collaboration, endpoint protections for all those laptops outside the company network, and a solid VPN strategy to stay connected to apps and data.  Some questions you should consider in order to keep employee productivity a top priority at your organization, are:
Do your employees have laptops with advanced threat protection and cloud backups they can take home?
Will your VPN or remote access solution support the increased load if most or all employees are trying to connect?
Do you have tools in place that allow for collaboration among staff and with customers when not in the office? Examples include;

Phone and video conferencing solutions
Chat or team-based collaboration tools
Asking these questions recognizes the need for redundant, remote systems that can allow teams to be functional even not when in the office. Remember, "Work is not where you are. Work is what you do."
---
March 13, 2020 – We are in an unprecedented time of business disruption globally, and I would like to take this opportunity to discuss some of the measures we have taken at IT Weapons to make our staff and our clients feel safe.
IT Weapons and Konica Minolta are closely monitoring the ongoing novel Coronavirus (COVID-19) outbreak. Based on guidelines from the World Health Organization, as well as federal and provincial health agencies, we continue to operate normally, but have begun implementing preventative measures as part of our business continuity plans.
Here are some of the protocols IT Weapons has implemented to secure our staff:
Our main office will remain open, however, all non-emergency vendor, partner, or client visits to are to be avoided. Moving forward, all meetings (internal or external) will be scheduled with video conferencing
Encourage working from home: Every employee at IT Weapons has the tools to work from home securely and to collaborate from anywhere using MSFT Teams and WebEx.
Suspending all non-essential work travel
Hygiene guidance to all employees
Strong disinfecting protocols implemented at our offices
Our commitment to our clients' business continuity remains paramount and we have established protocols that will continue to allow us to support our clients in these uncertain times.
Should you have any questions or concerns about your organization's safety and productivity during this time, please reach out to your ITW Account Manager, or contact us on our website. We want to do our part to help ensure you are healthy and feeling safe.
Thank You,
Ted Garner
President