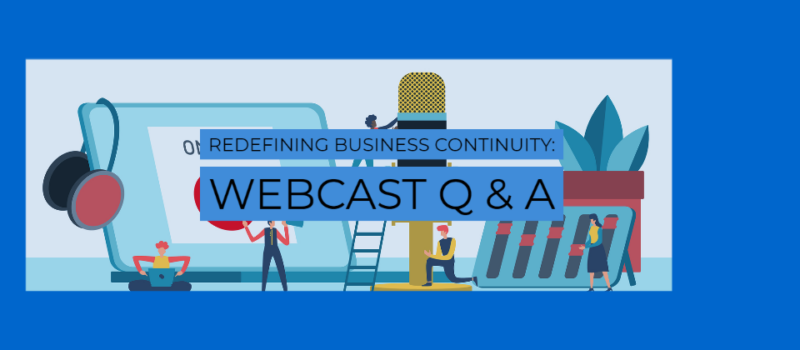 Recently, our President, Ted Garner, and Director of Finance, Siva Sanmuga, sat down with us for a webcast discussing how COVID-19 will continue to shape the face of business continuity planning. During the webcast, a number of questions came in for our panel. Below are a few of the most popular questions:
Q. How is IT Weapons changing their management style in order to embrace and elevate opportunity for people to work remotely?
Focusing on "people" has been a priority for our leadership team. First and foremost, management has made sure that our team understands that "it's okay" to have family or pet distractions happening while people are working from home. This extended work-from-home period was certainly not planned, so being understanding about busy homes, pets, and kids, all while embracing this change, has really helped our team feel more comfortable at home. Also, we quickly shifted many of our core culture initiatives to be able to take place online, such as our "vSummit" (Virtual Summit – our annual company conference) and "vWatercooler" (Virtual Watercooler – to check in with colleagues) chats on Microsoft Teams.
Similarly, it is also important for management to consider workplace safety as organizations gear up to reopen post-quarantine. Along with our parent company, Konica Minolta Canada, we have published a set of guidelines that organizations should consider before returning to the workplace to ensure the safety of their employees and clients.
Q. How has Business Intelligence (BI) played a role in managing a remote workforce?
ITW has been investing in Business Intelligence tools for several years, and during this pandemic, they have played a significant role in providing our leadership team with the information they need to assess the well-being of our team. Our business intelligence dashboards pull information from several sources (our PSA tool, monitoring and management software, HR systems, etc.) and present that information visually. Most of our dashboards are designed to visualize information quickly and accurately, giving our leadership team the resources they need to make educated decisions for our business and our clients.
Q. How has the general concept of "work from home" changed in the last few months?
First, a more accurate name would be "work from anywhere." Working from home used to be seen as a gift or an occasional, need based activity. Now, companies must provide all employees with the technical means to get work done from anywhere, which has changed "working from anywhere" from a nice-to-have perk, to a major business continuity necessity.
Q. On the finance side, what measures are in place to prevent "CEO Fraud?"
CEO Fraud, a scam that involves someone pretending to be the boss of a company and requesting a money transfer or other similar activity, is a big problem for many businesses. First, at ITW, all staff engage in monthly Security Awareness Training which helps cover how to avoid common online scams, such as CEO Fraud. Furthermore, our Finance Team has several additional processes in place, such as video or face-to-face confirmation for any unusual financial request. In addition, our Finance processes are constantly being reviewed by our Security and Compliance Team to ensure that we have proper measures in place to protect our team from new and emerging threats.
Missed our webcast? Click here to watch in at your leisure!