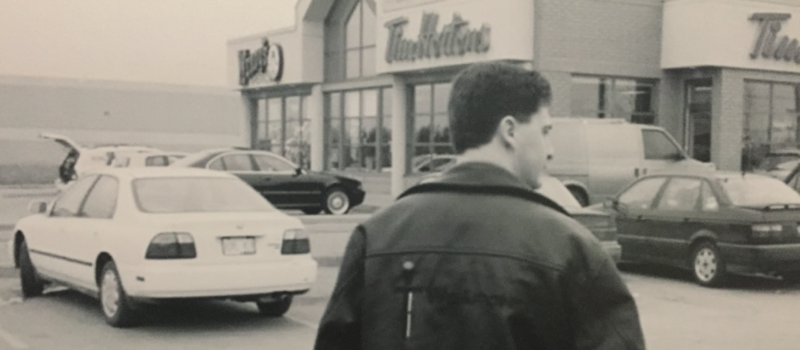 This picture is a time machine. The late 90s cars, the oversized leather jacket, my youthful face, and the oldest glimpse we can find of ITW's logo.  That logo—and the company itself—were born 20 years ago this June, in that Tim Hortons at the end of a YYZ runway on Dixie Road near Toronto's Pearson airport. That logo still inspires curiosity and questions today. People see our building from the 407 highway, and some think it's a church. They see the sword and they wonder if we sell weapons and armaments. Even in our earliest days, it made an impression. It made us memorable. And from day one, it also captured the spirit of our mission. It captured the "WHY" behind the founding of the company and what we sought to deliver… which culminated in our tag line isn't it time you felt safe? 
When I look at this old photo, I see WHY we created IT Weapons and WHY I still get up everyday. The mission isn't just to keep my team and our clients safe, but to make them feel safe. That subtle difference matters. THAT is why we try to put emphasis on client experience rather than on the technology itself.
Looking back on 20 years, I am filled with pride and gratitude for how we got here, and I am full of optimism for what's to come. I am extremely proud of the team we built and the values we latched onto that continue to drive our business.
2 Core Values
First, Expertise: we drove each other to not be Know-It-Alls – but to be Learn-It-Alls. Second, Integrity: we would NOT be sales driven – we wanted to show the fast-talking, suit-wearing sales sharks that honest geeks could run a company. Together, these values were our service offering. Our feeling was simple; Canadian IT leaders want a smart partner that won't screw them for personal gain. They wanted somebody who knew their stuff and would help them make the right decisions.
The operating philosophy was simple: do a good job and they would call us back. I'd like to think this still rings true today. We may not always get it right, but darn it, we will always make it right. If we stuck to that, kept up our knowledge and built up our experience, success would come. And it did. We found people who shared our values, who liked our approach, and we grew the business. Like-minded clients who wanted to do business with folks like us. And like-minded IT professionals who wanted to be part of a team like ours.
Gratitude
I am thankful that we beat the odds – most start-up businesses fail inside of their first 5 years. We flourished through 5, 10, 15 and now 20! And my heart and head fill with gratitude when I think about that. We've grown to a team of 120 people in 4 cities across the country. I am grateful for this group of leaders, mentors, friends, and teammates that make up our team; a team that consistently plays for the logo on the front of the jersey, not the name on the back. They are generous and creative, and they work hard.
And then there's our clients. You have shown us an ever-growing level of trust as we've expanded our portfolio, built our teams, and tried to find ways to add new value and serve you better. And that spirit of partnership is the true measure of business success I am told. Awards come from that. We have those – and thank you to the boards and committees that have recognized this team over the years. I am inspired and grateful when I see the ITW team working alongside a client team – together on projects that often take months to complete – keeping each other safe and chasing shared goals. That is the good stuff, right?
I am also grateful to my partner and co-founder Jay. This was a bittersweet year that saw my good friend (my brother) retire at the end of March. We were sad to see him leave, but he is doing what every entrepreneur dreams of and works for. He is spending time with his family. He is spending time with his hobbies and passions (did you know Jay is a pilot?). My team misses Jay, but, like any true professional, he prepped and planned his handoffs extremely well. And he reminds us that he is always there if we need him.
Optimism
Looking forward, we have a brand-new decade ahead of us. And while times are difficult for so many Canadian organizations this year, I am confident and hopeful that the future remains bright. As part of the Konica Minolta team in Canada, in every major city, I am excited about the new possibilities and emerging capabilities.
Our Solution Development team now has a community of experts across the globe at Konica Minolta to help us innovate and serve you better. Having sisters and brothers to collaborate with in other countries provides insight and perspective and opportunities for mentorship. It's certainly part of the magic we sought in joining a bigger team through acquisition.
On behalf of the entire ITW team… a tremendous thanks to our clients, our partners, and all our loved ones. Thanks for an incredible 20 years. Thanks for your continued support and your continued trust.
Thanks to everyone who continues to inspire our team to work hard and keep clients feeling safe.
See you real soon!
Ted Garner
President.