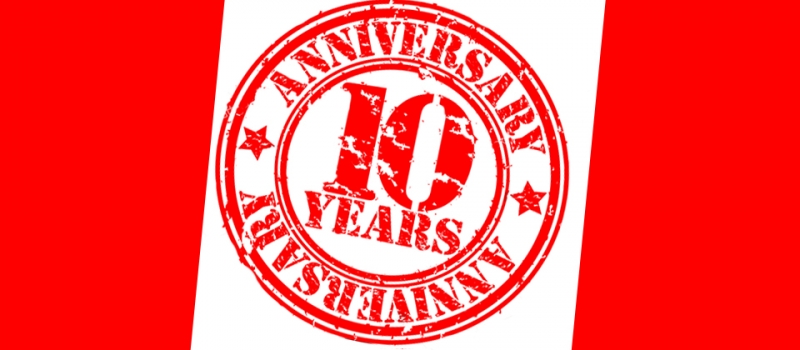 I often tell people that IT Weapons rarely says "please" … but we are legendary for how we say "thank you".   I think we lived up to our reputation on Wednesday.
If our 10th Anniversary was any more fun … it would have been criminal!  Perhaps for no other reason than seeing over 100 people wearing the personalized ITW hockey jerseys we gave out to the Wepz and our guests.  For our clients, we made sure that the numbers on the sleeves of their jerseys reflected the number of years they've been an ITW customer.  What I found striking was that almost half of our guests have been with us for 5 years or more.  That means a lot!
 It was pretty cool for Jay and I to rub elbows with old friends and colleagues … I was especially pleased to chat with my first boss in IT back at Spar Aerospace – Roy French, who is now CIO at SEHC.  In addition to being a long-time IT professional and trusted friend, he is also one of my favourite authors  …  how he finds the time to write novels, I'll never know.
New to an ITW event was the presence of local and national media.  We had people from the Brampton Guardian and the Business Times (who will be featuring us next month… stay tuned for more info).  Also in attendance was editor and VAR blogger at IT World Cananda,  Paolo Del Nibletto.   We met Paolo last year at the CDN Channel Elite Awards, and he has since become a real ITW fan.  Paolo got to mingle with our customers and partners, and he ended up putting together a nice piece on the event.  I think he did a good job capturing the atmosphere here on Wednesday afternoon.
Leading up to the event, the team gathered a bunch of video testimonials from clients and Wepz.  Mike Edmonds did a great job of editing all the footage together into a video presentation.  To top it off, Citrix CEO Mark Templeton sent us a tremendous video, sharing his thoughts on our 10 years and the role we play for Citrix in Canada.
All in all, I think that video presentation had a real impact.  Since the party, we've gotten a bunch of really great feedback, and it feels like we tapped into something special.  Seeing our customers reflect the values we've worked hard to cultivate means everything to Jay and I.   Here's a sample from a few of our clients,
Listening to the testimonials yesterday it is hard for us to top what your clients have said about IT Weapons.  We feel the exact same way.  Its hard to sum up one word for IT Weapons because you and your "Wepz" are many things.  IT Weapons show such great integrity in everything you do.  Everyone is very knowledgeable.  You are on the leading edge of technology.  You demonstrate loyalty.  You're team oriented. You go that extra mile.  The emphasis is always on best practices vs. just making a buck.  There are so many words we could use to try and describe how we feel about IT Weapons but I could be here all day.
It was really a great event. I already knew what a great company you guys have built but it was nice to find out more about how it all began.
The energy in the building was palpable and I really think this event invigorated the relationships we have with our partners on the one hand and—most importantly— the relationships we've built with our clients.   We were especially proud to host 130 people in our office … to invite people into our world, let them see first-hand how we operate, and show off  our new digs!  I think we succeded in making people realize just how important they are to the ongoing success of IT Weapons.
A telling example was recounted to me after the event; one of our more casual clients ended up calling his boss and demanding he come down to our office to see first hand what we've built.  They've been having some internal problems with infrastructure and operations lately and when the CEO arrived, mingled with our team, he remarked "this is what I want to do with our company." They say that imitation is the sincerest form of flattery … talk about a great compliment to the ITW team.
In closing, I want to extend a special thanks to Brampton's Mayor, Susan Fennell and Ontario's Minister of Government Services (Harinder Takhar) for taking the time to support us … Especially Mayor Fennell, who did a great job warming up the crowd and welcoming us into the Brampton community.
With this incredible milestone behind us … I am so excited for the future.  We've already started mapping out the next 5 years (Jason and I like to carve out our strategies in 5 year plans).  Thanks to everyone who continues to make this growth and innovation possible.