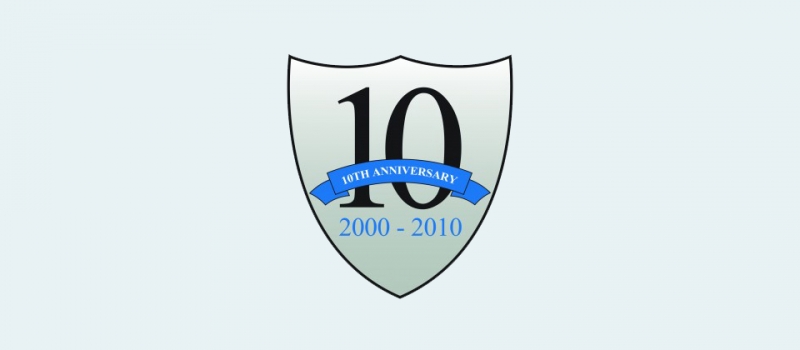 Having played various sports over the years, I'm used to the dynamics of a team; navigating relationships, celebrating victory and coping with loss.   I've seen some people step up in the face of challenge and stress, and watched others skirt responsibility, and still others fail to seize opportunities in front of them.  I've been fortunate enough to watch groups of superstar individuals grow into cohesive, well-tuned machines.  I've witnessed these transformations from within a team, and from the sidelines.  I've seen it on the ice, on the field, and in the office.  I love to study the patterns and dynamics of individual and team development.  When we're put into groups working toward common goals, humans are peculiar and wonderful things!  I'm lucky enough to be surrounded every day by about 40 of the brightest.
Last night Jason and I witnessed the culmination of 10 years of team development at the anniversary party we held for the Wepz, our families, and friends.  This was the first time I just stepped back and let an event get completely organized and executed by the team we've assembled.  I wasn't surprised at the quality – it was top notch – I expect that.  What did surprise me was the pure emotional investment the team put in;  it really made the event a personal and 'from the heart' experience.
I won't lie … I got choked up by a few of the heart-felt speeches and toasts.  Nearly the whole team contributed to the event … I don't think I'm being overly poetic when I say you could feel the pride and camaraderie in the air.  What I found most striking was the show of support from our team's families.
I hugged about 120 people last night; congratulating us and thanking us for their loved one's career development.  I heard things like,  "working here has changed (their loved one's) perspective" …  "this team and this building are amazing – I can't believe how well you treat your people" …  "How do I get a job here?!?" … and my favourite, "I have worked for 40 years at one place and I have never felt the respect you give my son- Thank-you".
That felt good.
The team kept Jason and I out of the loop when it came to the agenda last night.  The surprise presentations were great; from the Senior Consulting team  (Nuno, Chris, Huw and Mark) recounting of their favourite stories, to the humour from Gary, Rick, and Brett.  It was nice for Jason and I to take a back seat and let the team share their perspective.  Perhaps the highlight for me was a great inspirational speech from Greg Edmonds, founder of Drive Products, a longtime friend, one of our mentors, and ITW's very first invoiced client!  We also saw a funny stop-motion Lego video by my kids, a hilariously butchered song sung by my family, and some warm reflections from Jay's sister-in-law, his mom Maureen, my mom, and mom-in-law.  Jason and I concluded the evening by handing out a personalized ITW team hockey jersey to every Wep.
Wow.  Anthoula, Jeremy, Ian, Greg, and Matt put together a fantastic event for everyone.
Thanks to all the Wepz, for making it so much fun and thanks to all the extended Wepz for your kind words! And I know I speak for Jay when I say we are looking forward to the next 10 years!