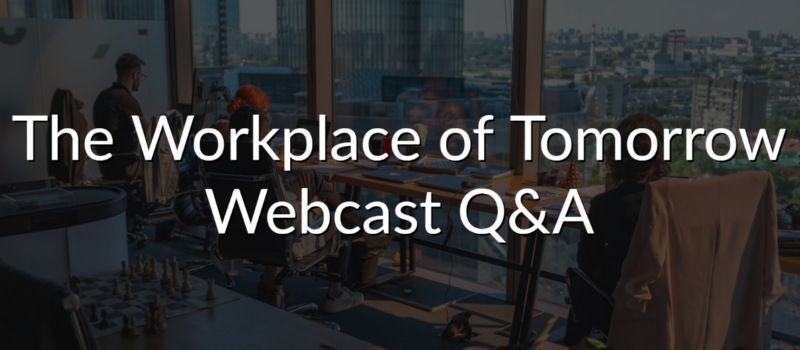 In our recent webcast on the Workplace of Tomorrow, we discussed five technologies that organizations can implement to keep up with a changing business environment. During the webcast, we received a number of questions asking for more information on the discussed topics. Below are a few of the most popular questions raised during the live webcast.
Is Microsoft Teams a better communication platform than Slack?
Both Microsoft Teams and Slack and great communication tools for any business. Slack is an established application used by thousands of businesses all around the world. As for MS Teams, Teams is part of the Office 365 suite, which is the most widely used office software in the world. Since Teams is a Microsoft application, you can benefit from its seamless integration with other Office products and familiar approach to productivity. Check out our blog on collaboration tools for more information.
Can SD-WAN be implemented into existing WAN infrastructure?
It depends. There are dozens of enterprise grade SD-WAN solutions available, and some require specific hardware that is SD-WAN compatible. One option provided by Fortinet provides SD-WAN through newer FortiGate firewalls without any additional hardware or licensing required.
Is Business Intelligence just as applicable for smaller businesses?
Yes. Smaller businesses can use data in the same meaningful way, just at a smaller scale. While larger businesses collect information from multiple platforms, smaller businesses can often visual data from one primary application in order to gain valuable insight. Learn more in our article on Business Intelligence.
Is the protection provided by MFA worth the investment? What is the ROI on it?
According to Microsoft, Multifactor Authentication (MFA) blocks 99.9% of all attacks. With the number of cyberattacks on the rise, it is not a matter of if, but when you will get attacked. A breach can halt all your business operations and lead to massive losses, so the benefits really speak for themselves. Making a one-time investment that takes minimal effort to manage can protect you for a long time, whether you are a small or large organization. We discuss more of this in our blog on MFA.
This was one of our most successful webcasts, and for good reason. Businesses want to stay up-to-date on the digital transformation taking place in the market and keep their users productive and their data safe. Contact us to find out more on how IT Weapons can help you to implement these technologies into your organization.