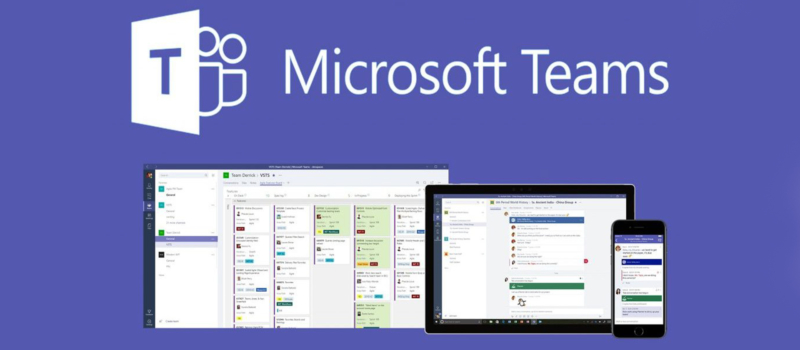 Thanks to a rapidly changing business landscape, there's a huge requirement to support business needs through technology that allows for greater collaboration. These tools make it easy to create centralized forums, track projects, and improve communication within and between teams.
Two of the most popular office collaboration tools, Slack and Microsoft Teams, both offer a variety of communication and productivity-based benefits. Below is a breakdown of these two apps and how you can use them to improve collaboration in your organization.
Microsoft Teams
Microsoft has been rolling out their new centralized collaboration and communication tool, Microsoft Teams. In fact, if you have a newer Microsoft device (e.g. Windows Surface laptop), you might even have had the program auto installed, prompting you to set it up. Teams is Microsoft's latest push into the collaboration software market, and one that comes with many positives. With Microsoft terminating Skype for Business (goes end of life July 31, 2021), this is their push to fill that void with a more versatile product in Teams, and one they are likely to keep improving on. Although Microsoft has not had a tool like this before, they have taken the best features that organizations are looking for and incorporated them into one program, including:
One on One Instant Messaging
Group Chats
Screen Sharing
File Sharing
Managing meetings
Group Collaboration
Voice and Video Calling
Slack
Slack has had a lion's share of the workplace collaboration market since its inception in 2009. They disrupted the market that was once dominated by Skype, raising $1.2 billion over 11 funding rounds, and is now being valued at $7.1 billion. With their introduction, Slack really knocked it out of the park, trying to cover all aspects of collaboration. Slack provides excellent integration with programs like ZenDesk and Salesforce and works efficiently with Google Drive. And they really do have essentially all the features that Teams has as listed above.
You might be asking, if they're both so similar, which one is best for your business? Does one have a leg up on the other? Keep reading…
The Slight Edge
So you've got a decision to make – Slack or Teams? Where Teams has a slight edge is in the incredible power of Microsoft. For one, Teams is a part of Office 365, which is the most popular software suite used by organizations and one you're likely already using. Teams allows users to seamlessly integrate their existing Office suite into their collaboration efforts. Another area where MS Teams has a slight edge is in the freemium category. Both Slack and Teams have an option to use the programs for free, but again, thanks to Microsoft's massive budget, they can afford to provide more for the same (or no) fee. An example is where Slack allows 5GB of storage and 10 app integrations, where Teams allows 10GB of storage and unlimited storage, both for the free versions.
Who to Pick?
You could be asking "So which one should I pick?" And it would really depend on your needs. You could pick either and still come out having made the right decision. What you need to consider is the scope of your business. Do you use Google suite or Office 365? What programs would you like to integrate? What degree of integration do you require? How many users do you have? These are all questions that you need to think about when making a decision.
This is where IT Weapons comes in – we can analyze your business needs and existing software suite to help you make the best choice in choosing a collaboration tool that works best for you. Please don't hesitate to Contact Us if you need help in making this decision!