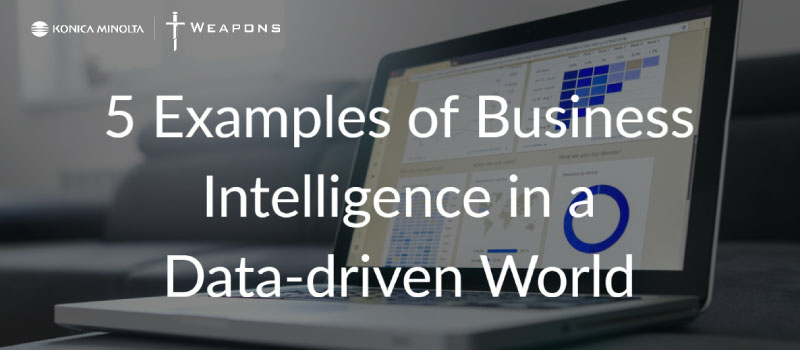 As organizations become increasingly dependent on technology, data takes the driver's seat in the business decisions that executives make. Data analysis is one of the largest growing fields of research, and employment in the field is at an all-time high. From financial organizations to manufacturers to start-ups, "big data" and "data analysis" are booming trends that continue to impact enterprises today.
What is Business Intelligence?
In order to leverage data when making business decisions, organizations need to first interpret data  that has been collected from multiple sources, and then they must use the knowledge gained to implement strategies and business changes that will help the organization grow. This is known as Business Intelligence (BI). Data is the driving force of today's businesses and is changing the way organizations make strategic decisions, and BI is the reporting tool that effects these decisions.
Examples of BI
BI is essential for businesses of all sizes – from large corporations like Walmart to a small business-like a neighbourhood bakery. Below are examples of how these enterprises could use BI:
Supply Chain
Consider a children's toy that is sold in a Walmart store in Brampton, Ontario. This product is sourced from the Chinese city of Nanjing. The item has to make the journey between the two cities and arrive at the destination in time for the holiday shopping season. In the past, this product has been consistently delayed, and as demand for the product has been rising, Walmart wants to ensure maximum availability. This is where BI comes in. Walmart can use BI to find out where in its supply chain the delay is happening – for example, they could find that the freight ship that transports the product makes a stop in Hong Kong where the container changes ships, and this delay causes further delays down the supply chain. Walmart finds a new route on a direct ship from Shanghai to Vancouver, which while initially more expensive, saves 2 days and would get the product to the destination on time. Not to mention, they would be able to supply the growing demand and make up for their initial shipping cost increase and make a handsome profit. The data they cultivate from these different points in the supply chain can streamline their strategy and increase their profit margin.
Materials Sourcing
A local bake shop owner finds that their most popular blueberry muffin sells out within the first hour of the morning breakfast rush. The shop is in the middle of the financial district and is a source for breakfast for hundreds of working professionals in the area every day. The owner knows that the demand for this muffin is there because of the number of requests she gets for it, well into the late morning hours. Because she runs out of the muffin so early, she ends up leaving many potential customers disappointed, ultimately leaving her with a dip in sales. She realizes that her revenue could increase greatly if she can stock the muffin throughout the day. Using BI, she can estimate the number of customers that ask for that muffin at different times of the day and make the appropriate business changes required to satisfy customer demand.
Social Media
A real estate agent has recently started his own brokerage firm in a diverse, booming city. There are multiple condos and houses being built in developments around the city and a healthy job market which is attracting young professionals in the millennial generation. Since millennials are very active on social media (SM), the agent realizes that he can use it as a tool to market to this demographic. Being a city with a vibrant tech sector, many young professionals have well paying jobs that provide them with the opportunity to buy real estate for living or investment purposes. So, the agent hires a SM marketing agency to design an ad campaign around targeting professionals in the age group of 25-40 with incomes of $90k to $150k. This provides him with a very streamlined and tailored target demographic that is interested in buying homes, where he knows he is very likely to get a sale. These are all data points that are uncovered by BI which has directly affected his marketing strategy, leading to increased sales, and boosting his revenue.
Public Health
In public health, specifically epidemiology which deals with outbreaks, data analytics is used quite often to create a strategy. The recent Coronavirus that has spread from China causing a global emergency is being closely monitored by the World Health Organization (WHO) using data. The virus, which was identified in December 2019 spread quickly, with an estimated fatality rate of 2%. The WHO closely monitored the situation for weeks, and only declared the outbreak a global health emergency in late January 2020. A real time visualization strategy is used to map out the spread of the virus geographically. Future strategy can also be determined by predicting its spread and planning for resources such as medication, medical personnel, and equipment. If there are affected individuals traveling to a new location, the host location can better plan for the outbreak by stocking hospitals and communicating public health by determining where they are coming from, how many travelers there are, and how long they've been sick.
Organizational Strategy
A CPG company employs Customer Service Representatives (CSR) that work with multiple clients over a rotating shift schedule. Because the company promises 24/7 customer support, this means they have to schedule their employees' work hours in a staggered fashion, with more working during the day, and some working during the night. However, with a large catalogue of products and a high demand for them, the company receives a massive number of calls and complaints, which can lead to employee burnout. In order to avoid this, the company implements a BI tool that records the CSRs working hours, number of calls answered, break time, and vacation time. They implement a threshold that if any CSR works for 3 hours without a break, they will send a reminder through the BI tool that it's time for their break and they need to step away from their desk. This strategy can allow for greater employee retention, since they notice that the organization cares, and also provide a better quality of service since the CSRs are better rested.
Benefits of BI
According to the BI Survey conducted by the Business Application Research Center (BARC), over 2600 BI users reported significant operational benefits to their organization as a result of using BI. These include:
91% reported faster reporting, analysis, and planning
84% reported better business decisions
79% reported greater employee satisfaction
74% reported improved operational efficiency
66% reported greater customer satisfaction
Conclusion
BI isn't just about data – it's a suite of business tools that encompass technology, software, data, and strategy. It is an essential tool that improves business insights and helps to inform organizational decisions. Research is showing greater investment into business areas sales planning, forecasting, and customer behavior analysis, which can only be accomplished using tools provided by BI. It is time you consider how organization can benefit from BI.