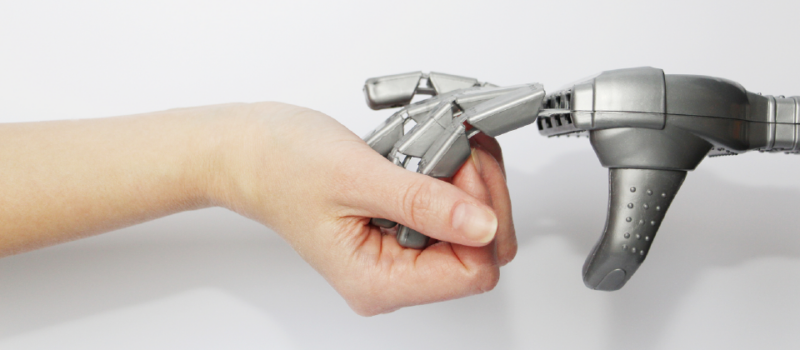 One of the most exciting things we discovered as part of our acquisition by Konica Minolta last year is that they operate 5 Business Innovation Centers (http://bic.konicaminolta.com/ ) around the world. We knew our new parent company was pretty progressive (for instance, they've been named to the Dow Jones Sustainability World Index for many years), but getting an insider's glimpse into some of their innovation was a real eye opener.  We were fortunate enough to visit the BIC in Silicon Valley this spring. While we were there, we got to meet the folks from Double Robotics; one of the technology companies partnering with the BIC in California.  Now we have a Double robot in our office.
What is a Double robot? It's basically an iPad on a Segway. But you get to pilot it remotely and have your face on the display like you would in a FaceTime or Skype call. When it was delivered to our office, it was devastatingly easy to set up: download a simple app onto the tablet, and connect it to the Double Robot.  That's it.  We were cruising around the office in less than 10 minutes. With the app running on a smartphone or iPad, you connect to the robot the same way you would connect to a WebEx or Skype meeting.  But then it gets fun … You can pilot the robot around our office, sneak up on your favourite Wep or square up to the boardroom table to participate in a meeting.  Check out a great video case study here (http://stories.doublerobotics.com/?story=true&id=79)
Why did IT Weapons get a robot for our office?  We don't sell robots, we're a cloud solutions and IT services company, right?
The Double isn't just a nifty toy.  With a growing distributed and mobile workforce, not everyone can be in the office.  Studies show that face-to-face collaboration is extremely productive – giving people the ability to move around an office remotely and embed themselves in meetings is what it's all about. It's a telepresence robot.  The Double delivers a dimension of interactivity and autonomy of movement that a screen on the wall for a video conference just cannot provide.   The Double is also a symbol of what's going on at centers of innovation and excellence around the world.  Bright minds are finding new places to take emerging and maturing technology and wrap valuable services and productivity tools around them.  And then, these bright minds are packaging the technology to inspire new and creative ways to drive collaboration and customer engagement at companies in every market.
The story of the Double reminds us of Amara's Law. "We tend to overestimate the effect of a technology in the short run and underestimate the effect in the long run." Roy Amara was an American research scientist and president of the California-based not-for-profit think tank Institute for the Future.  He was a futurist; helping organizations plan for their long-term future by understanding the potential impact of emerging technologies and socio-economic trends on a macro scale.
Amara's law is probably best illustrated by Gartner's famous "Hype Cycle" for characterizing the attitudes and expected utility surrounding emerging technology. Think of any high-tech product launch (think Apple or Microsoft). There is always an initial peak of heightened excitement and inflated expectations, followed by a sharp drop of disillusionment when folks realize the actual capabilities of a first generation technology rarely live up to the pre-launch hype.  Eventually as a technology matures and concrete use cases and ROI emerge, the long run impact of a new technology flourishes – but our attitudes take time to catch up and we often downplay the payoff of long-term bets. Why?  Because it's hard to imagine the future, but easy to imagine the "now".  Hence, the truth of Amara's Law.  Put another way; people like to pick fruit and eat it now, they usually aren't interested in planting trees and waiting for the fruit to grow.
How does Amara's Law apply to the Double Robot?  Think of where robotics stands on the Gartner Hype Cycle.  Robots aren't necessarily new.  This isn't the early 70s where we share a naïve, romanticized idea that every family will have a robot housekeeper like the Jetsons.  Telepresence and videoconferencing aren't very new either.  But a plug-and-play robot designed for immersive teleconferencing and collaboration is pretty damn innovative!  The folks at Double and those who help incubate and nurture these technologies (like the folks at the Konica BICs) are the ones who made a long ball bet on the robotics and telepresence technology. They are the ones who planted the trees and now have delicious fruit ready to eat. Being part of the global Konica family means we get insider access to the innovation and moonshot research bets that are happening under their banner all over the world.  It's pretty inspiring.
Want to try exploring our office on the Double from the comfort of your desk?  Give us a call and we'll set it up!