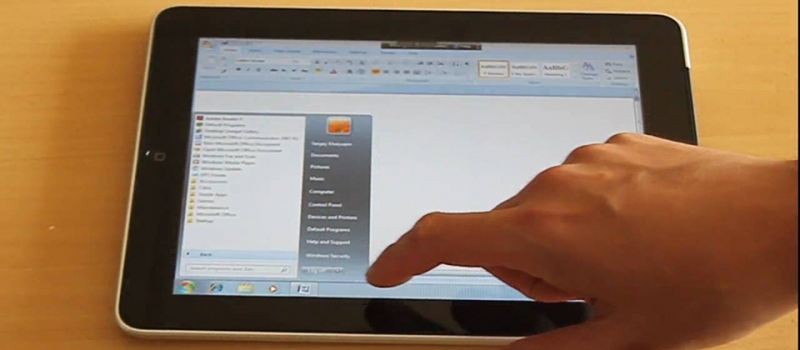 Laptops and netbooks are so 2009!
I have been carrying my iPad all over North America as my primary mobile device for a few months now.   We like to beat the hell out of new technologies when they come out; testing the limits of their functionality as business tools.  Nothing beats experience when people start asking for advice.
As I roam with the iPad, I get plenty of curious consumer questions, but I prefer the business-related inquiries.  I'm pretty convinced that it's a great blend of personal and business functionality.  As a remote and mobile access evangelist, trusted advisor, and virtual CIO for many of our clients, I particularly love getting asked about its utility as a tool for accessing my business apps and data.  Most believe I can just access my email and calendar/schedule.  When I show them my Windows desktop with all of our 20 applications running on the iPad, they are impressed to say the least … and jealous for sure!
As the majority of our clients run XenApp or XenDesktop, we've had some immediate DEMAND that we help them 'make the iPad work' for their environment (and justify an iPad purchase as a business expense!).
For most clients, it was just a matter of minutes to configure Citrix Receiver on the iPad.  This got them online within their corporate WiFi networks.   For external access – most were ready to go as well … Although, some needed changes in their security access infrastructure.  I wanted to focus on this – for an iPad to work in this capacity, easily and securely, an upgrade to Citrix Secure Gateway (CSG) or Citrix Access Gateway (CAG) to (ideally) a NetScaler VPX is required.
All Citrix Infrastructures should be running this way anyway for security and TCO reasons.  The license is only $1200-$1300 dollars and a short consulting engagement to get it operational.  This generates plenty of features and functionality (beyond iPad compatibility).  One of the ancilliary benefits for hosted clients is that this reduces Data Centre costs in occupancy footprint and power consumption.  Another small 'Green IT' checkmark
And FYI – its $30-$40 dollars per month for a decent iPad data access plan (note that it's separate from cell data).
BTW, these upgrades don't just allow iPad external access, but iPhones as well via the Citrix Receiver!
I'm really starting to like the folks at Apple and Citrix more and more.