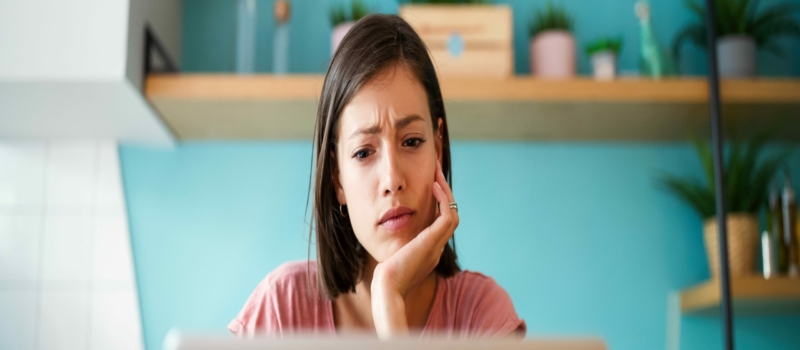 Your current managed IT services provider may have looked great on paper, but once the proverbial ink dried, you may have noticed red flags starting to pop up.
Maybe you're feeling overwhelmed by mounting IT issues, but you can't get ahold of anyone to help so the list just keeps on growing. Or every other month you get a bill that vastly exceeds any estimate you received at the onset, and your budget can't handle the rising and unpredictable expenses.
Fortunately, you don't have to settle for feeling unhappy and unsupported by your service provider. If you suspect the honeymoon is over with your managed services provider (MSP), take a look at 10 key indicators that it's time to see other people.
10 Signs You Have the Wrong IT Provider
1. They don't understand your business.
If your MSP doesn't fully understand your business, they can't provide appropriate solutions to help your business grow or meet its goals. This is particularly problematic in highly regulated industries. Failure to adhere to your specific compliance requirements can result in expensive fines and legal trouble.
2. They don't deliver measurable business results
If you can't easily identify your MSP's ROI, there probably isn't one. Doing just enough to keep the business online with zero focus on the metrics that drive your business objectives is a clear sign you need a new provider.
3. They don't take security seriously.
Businesses can be held liable for security breaches caused by third-party vendors. If your MSP doesn't have a stringent security strategy in place, sooner or later it will become your problem to clean up.
4. They are poor communicators.
Communication is key to creating trust between clients and MSPs. If you struggle to understand each other either because the provider only talks tech or they aren't knowledgeable about your business or industry, it will be difficult to build a productive relationship.
5. They are slow to respond.
Today's consumers demand close to 100% availability from the applications they use; anything less and you risk losing them to your competitor. If your MSP is slow to act when a server crashes or there is a service disruption, they are costing your business money and potentially customers.
6. They are falling behind on tickets and aren't meeting SLAs.
Some MSPs overpromise when they pitch their services and underdeliver when the contract is signed. If you have to repeatedly reach out to the provider for status updates on outstanding tickets or they consistently miss updates and patches in violation of the SLA, it's time to move on.
7. They are only focused on fixing problems, not creating a proactive strategy.
Putting out fires is an important IT function. However, if all your MSP does is put out fires that could have been prevented by implementing some standard IT best practices, chances are good they aren't committed to doing more to support your business than simply "keeping the lights on."
8. They won't accept responsibility for their side of shared responsibility.
When things go wrong in a managed IT environment, it's important for the client and MSP to objectively look at the issue and be accountable for their own role in the event. Beware of an MSP that refuses to take responsibility when appropriate or blames the client for the provider's mistake.
9. They treat your relationship as solely transactional rather than a partnership.
Your MSP doesn't have to be your best friend, but you do want them to act like a partner with a vested interest in your company's success. If your current MSP only provides services exactly as written in the contract, you may want to look for a more collaborative IT provider.
10. They don't offer 24/7/365 monitoring and support.
Although your employees require sleep, your data and IT systems do not. Your MSP should provide around-the-clock monitoring and support to ensure network issues are addressed quickly to minimize downtime and prevent data loss.
How It Looks for Your Business When You Have the Right IT Provider
When you and your managed IT services provider click, you just know. A great MSP checks all the boxes:
They understand your business.
They have a proven track record and a good reputation.
They are available 24/7.
They provide fast service and response times.
They offer daily backups and cloud services.
They provide security testing and monitoring.
They are industry experts.
They are proactive.
What Makes IT Weapons a Great Choice for an IT Provider
IT Weapons is more than just a managed IT services provider. We are a trusted partner with the right solutions and skills to support all of your organization's IT needs.
We have experience.
We have more than 20 years of experience with IT services, cloud solutions, information security, unified communications connectivity, infrastructure management, and technical support.
We have vast technical expertise.
Our service desk team maintains full ITIL v3 certification, and we consistently maintain a client satisfaction rating of more than 96%.
We provide business intelligence.
We provide cutting-edge business intelligence, orchestration insight, and dynamic real-time reporting on the health and risk profile of your cloud, connectivity, and application infrastructure.
We are accredited.
With SOC 2 Type II accreditation for our data centre and managed services practice, we support organizations with the highest demands for security and compliance.
Curious to learn more? Take a look at our comprehensive managed IT services to see if IT Weapons is the right provider for your organization.