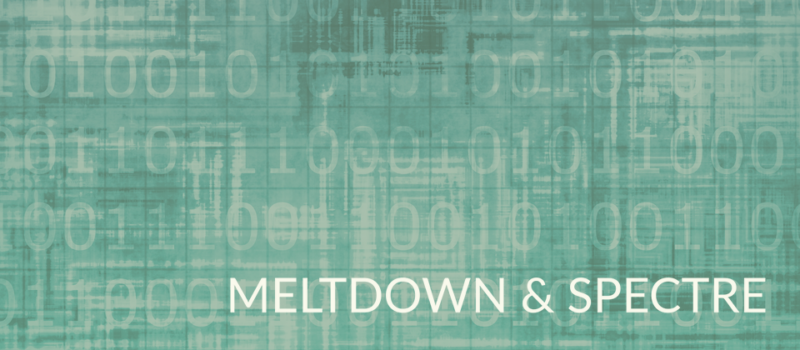 Only 5 days in 2018 and the business world is in full panic mode as two massive security flaws, Meltdown and Spectre, emerge from the ransomware ashes of 2017. While last year's ransomware threats like Locky, WannaCry, and Petya and multiple high profile data breaches put a mighty scare into IT leaders worldwide, Meltdown and Spectre are poised to be one of the most dangerous security flaws of all time.
Meltdown and Spectre are two newly discovered security vulnerabilities that affect nearly every computer processor made in the past 20 years, meaning that desktops, laptops, phones, and Internet of Things (IoT) connected devices are all at significant risk of allowing hackers to access private data such as passwords and banking information.
Microsoft, Intel, Google, HP, Apple, Lenovo and other major technology providers are scrambling to issue security fixes as quickly as possible, while IT leaders hurry to test them and get them working. While updating your systems is a common security best practice, businesses that utilize Manage Service Providers (MSPs) stand at an advantage when it comes to battling these types of threats. Here's why:
It's Someone Else's Problem
If you use an MSP to manage your infrastructure and devices, then chances are they have been toiling away furiously to get patches tested and installed quickly, while also making sure that these new patches do not significantly affect performance for your systems…meaning that you don't have to. Using an MSP allows you to continue focusing on your business plan while a trained security team tackles these emerging threats.
You Have a Central Point of Contact, Not Five or Six
Your technology infrastructure has a lot of moving parts, and many of these parts involve several different vendors. Instead of waiting on hold with countless vendor support teams, IT Managers only need to contact their MSP's support team or Account Manager to find out what's going on with fixes for Meltdown and Spectre. Most MSPs will have specialized team members tackling their individual areas of expertise, which can significantly speed up the process.
Dedicated Security Teams for Handling Dedicated Security Issues
For most small to medium sized businesses, having a dedicated Information Security employee is not feasible. With an Managed Services Provider, you get access to individuals with years of security experience, who will be able to guide you in the right direction.
Meltdown and Spectre may be the first major threats of 2018, but they definitely won't be the last. Make sure you have a proper plan in place to keep your systems updated regularly. It's one of the main ways to keep your information secure and your business safe.