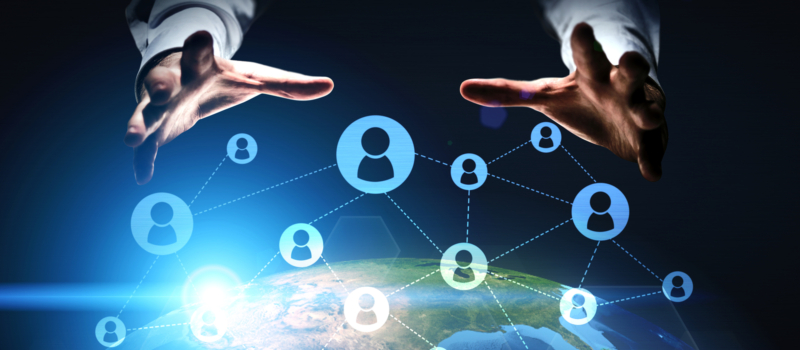 Managing a business can be a difficult task. Add on the complexities of a distributed workforce and things get even more difficult. A distributed workforce is when an organization has employees working from different locations, from home, or who travel for the majority of their job. Businesses today need to have everyone on the same page, which means that all employees, no matter their location, need access to the same trusted technology and resources.
87% of people in the workforce work on distributed teams-domestically or internationally. (Fuze)
Strong connectivity and Virtual Desktop technologies help empower a distributed workforce, however, missing out on traditional water-cooler chats, stand-up meetings, or face-to-face brainstorming sessions can negatively impact your company. Luckily, collaboration technology such as video conferencing, instant messaging, and tele-presence has helped to keep distributed teams connected and productive.
Below are a few tips for successfully managing a distributed workforce:
Tip #1: Have the right people. Everyone loves the idea of being able to work from home or from a different city, but that doesn't mean that they will be productive when separated from the office or the boss. A recent study found that 80% to 90% of the U.S. workforce wished they had the ability to work remotely, which shows the growing popularity and interest in working away from the office (Global Workplace Analytics). Remote employees should be self-motivated and productive when working away from the office, and this normally comes from people that have worked as freelancers, start-ups or have run their own business. They will also need to possess the correct skills for the job right from the start, especially strong written and verbal communication skills. Hire people who can communicate clearly and concisely over email, instant messaging or video conferencing.
30% of employees said that telecommuting allowed them to accomplish more in less time (Remote.co)
 Tip #2: Make sure the team is using the right tools. If the first step is hiring the right people, then the second is ensuring that those employees have the right tools to be productive. At a minimum, employees need to be able to securely access the following core business elements:
Company files
Company email
Corporate directory
Intranet
Core line of business applications (i.e. Finance system, CRM, etc.)
Another recent study revealed that working from home increases productivity by 13% (The New York Times). However, this increase in productivity can only happen if your remote employees are backed by the right tools. In addition, empowering a distributed workforce with more sophisticated technologies such as Citrix XenApp or VPN connectivity can allow them to have the same desktop experience no matter where they are in the world. Modern instant messaging tools such as Cisco Jabber or cloud document management services such as SharePoint are also great ways to manage teams in different locations, as it allows for quick and efficient communication and file access.
Nearly 9 in 10 remote employees say that video helps them feel more connected to their colleagues. (IMMCA)
This may seem like a big undertaking, but most business packages, like Office 365, come with some sort of file sharing or messaging capabilities.
 Tip # 3: No conversation is a bad conversation. When you don't have a traditional workforce that can interact each and every day, you can lose sight of the fact that this is still a team. They need to be encouraged to interact with each other and it is your responsibility to make sure that they do get occasional face-to-face time. Video conferencing is a good start, and you can start off easily by having your distributed workforce connect through Skype and their built in laptop webcams. If you want to take it to the next step, video phones and large conferencing screens in meeting rooms really help keep remote employees feel connected. In fact, 94% of businesses that utilize video conferencing say it increases productivity (Wainhouse Research). Also, make sure to get everyone together at least a few times a year. Don't let remote employees become an unknown visitor to your main office.
While technology plays a huge role in connecting a distributed workforce, managers need to make sure that all employees feel like they are a part of the team. Remember, teamwork is essential for productively, so don't let satellite offices and travelling employees negatively impact your bottom line.
 Need help keeping remote employees connected? Reach out and find out how we can help.