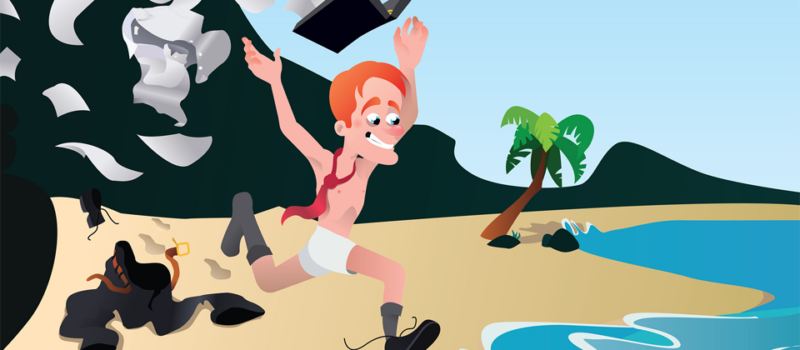 Does this sound familiar to you? It's a beautiful August morning. You make your way to the office and notice the parking lot is half empty. You step foot inside, feel the warm sun on your back, and notice that the inside looks more like a ghost town than a functioning office. Between vacations, holidays, and the "it's too nice outside to go to work" days, it is common to see empty desks around the office during the warm summer months. In fact, summer slowdown accounts for a 20% drop in workplace productivity between June and September.
Even though the weather is nice and a fourth of the office is visiting relatives or enjoying the great outdoors, you can still stay productive during the summer. Below are three tips for staying productive and beating the summer slowdown.
Smarter Communication: With employees today requiring increased flexibility and space, it is always important to remember that you cannot accept low production and output over the summer months. Our strategy at IT Weapons is to have weekly team meetings to clearly communicate our summer plans and get a calendar setup up for the second half of the year. If we have important projects or deadlines, we communicate that their attendance in the office is needed. If everyone is communicating within the team, there should be no missed deadlines or questions about empty desks.
Smarter Technology: Does your team appear tired and down? Have you caught them gazing out the window day dreaming of patios and upcoming vacations? It might be time to think about creating some flexible work practices this year. Studies show that flexible work leads to happier and more engaged employees. To unlock these benefits, you need to give them powerful communication and collaborations tools that allow them to work effectively from anywhere. More and more organizations are looking to unified communication solutions to empower today's workforce and not just for better employee engagement, but better customer engagement as well.
Smarter Lifestyle Choices: Finally, the third tip and our favorite point of discussion; PROMOTE OVERALL HEALTH in the workplace. Take the necessary steps to help your staff along the road to a healthy lifestyle. Need a quick chat with a team member? Walk and talk! How about scheduling some team BBQs or some after hour team building activities? How about some after work sports teams like Basketball and Hockey? ITW has a wellness reimbursement program that cover gym memberships and promotes friendly competitions like step challenges.
The warm summer days shouldn't hold a negative outlook on your team productivity. If you are proactive and promote wellness, communicate with staff and adopt new cloud technologies that keep employees effective and accountable, you can ensure a bright summer.