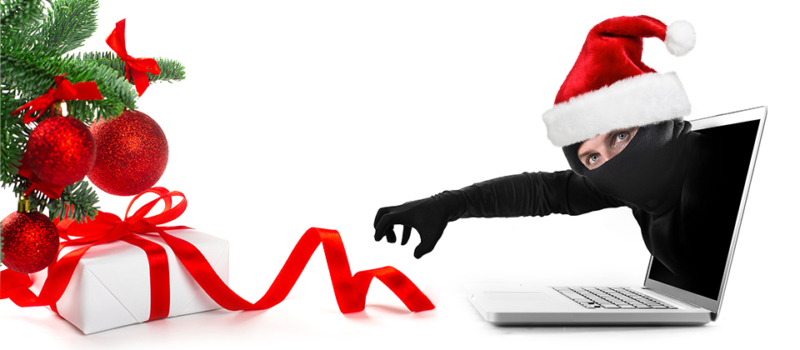 Every year our security experts see a huge uptick in fraud and other cybercrimes during the holiday season.  The story of holiday scams is now a familiar one.  We have all seen the phishing scam emails that pretend to be a legit online seller trying to get you to click something you shouldn't or enter your personal information where you shouldn't.  But with a new year, comes new tactics we need to look out for.
2020 saw online shopping skyrocket – and with that came an increase in cybercrime preying upon the millions of people purchasing online each day.  And as the holidays approach, our shopping increases and our carefulness decreases.  So for this season, we expect to see an even sharper increase in security incidents. As we relax with family friends, it's important that we don't let our guard down when it comes to data protection and good security habits.
All the cyber security technology investment goes out the window when we forget the good habits we learned.  Here are some key things to remember this holiday season to stay cyber safe.
How Do Criminals Target Online Shoppers?
They Take Advantage of Vulnerable Computers
Remember that last Windows or antivirus software update you ignored?  That's often where the trouble starts. If your computer isn't up to date with the latest security updates or working antivirus and endpoint protection software, you are leaving the door open for hackers to compromise your systems.
It's not just malicious links in emails, often malware can be launched simply by you clicking a link on a legitimate website that has been compromised.  The same risk you face with out-of-date software applies to the companies we do business with online.  If their systems are out-of-date, their customer databases and systems are equally at risk.
They Intercept Insecure Transactions
Remember, every activity or interaction you have on the internet between you, your device, and a website or service requires the exchange of information.  And if you don't take a moment to confirm that an online transaction is secure and encrypted, you run the risk of compromise.
They Create Fraudulent Emails and Fake Web Pages
You know the drill here; look at every link you click carefully and be on the lookout for impostors who are trying to fake you out of your credit card or personal information.  Cyber criminals will send phishing emails galore this season, and many of them will be tricky to spot at first glance.  It's up to you to exercise caution before you click.
Protect Yourself from Holiday Scams
As they say, an ounce of prevention is worth a pound the cure.  Regular security updates on your laptop and mobile devices, regular data backups, and some patience and good judgement go a long way to keeping you and your data safe this holiday season.  Here are a few more tips to help you and your loved ones stay cyber safe this holiday.
Check your credit card and bank statements frequently. Keep records of your shopping and be on the lookout for any discrepancies on your statement that may indicate your credit card or other payment information may have been compromised.
Check your app settings and privacy policies. We know, nobody likes to read the fine print.  But taking time to review the data privacy policies of any service or vendor website can help you understand the level exposure you are at.
Get a password manager. Instead of reusing passwords and increasing your risk, why not give yourself some peace of mind as a gift and invest in a password manager? These tools help you ensure your online identity and login info is managed effectively.
Be wary of emails that ask for information. Virtually no legitimate business would ever ask for payment or personal information over email. If you see such a request from an alleged vendor in your inbox, be suspicious.
Only do business with reputable vendors or services. Before you provide any of your personal or payment information online, make sure you are dealing with a reputable and trusted service.  That usually means their systems are up-to-date and secure with modern encryption.  Take a moment to verify contact information (like addresses and phone numbers) for any new vendor to help make sure they are legit.