Attentions All CSP Clients! Microsoft NCE Is Coming.
What is New Commerce Experience (NCE)?
The New Commerce Experience (NCE) is a part of the Microsoft Cloud Service Program (CSP) that enables organizations to manage their subscriptions more effectively. As part of their investment in the program, Microsoft has been working to reduce licensing complexity, costs and provide flexibility to support a range of client purchasing scenarios.
What does it mean for you?
The New Commerce Experience will help you streamline how you buy from Microsoft. The NCE features a streamlined subscription management process and provides you with the offers that best suit your needs to reduce the complexity and costs of licensing.
This change means that a two-part price increase is coming from Microsoft. This will begin on your March invoice and will appear for most SKUs. The price increase is approximately 20%. For example: Office 365 E1: $12 (up from $10).
Is there any impact on my business?
To better support you, Microsoft has developed a mufti-phase rollout: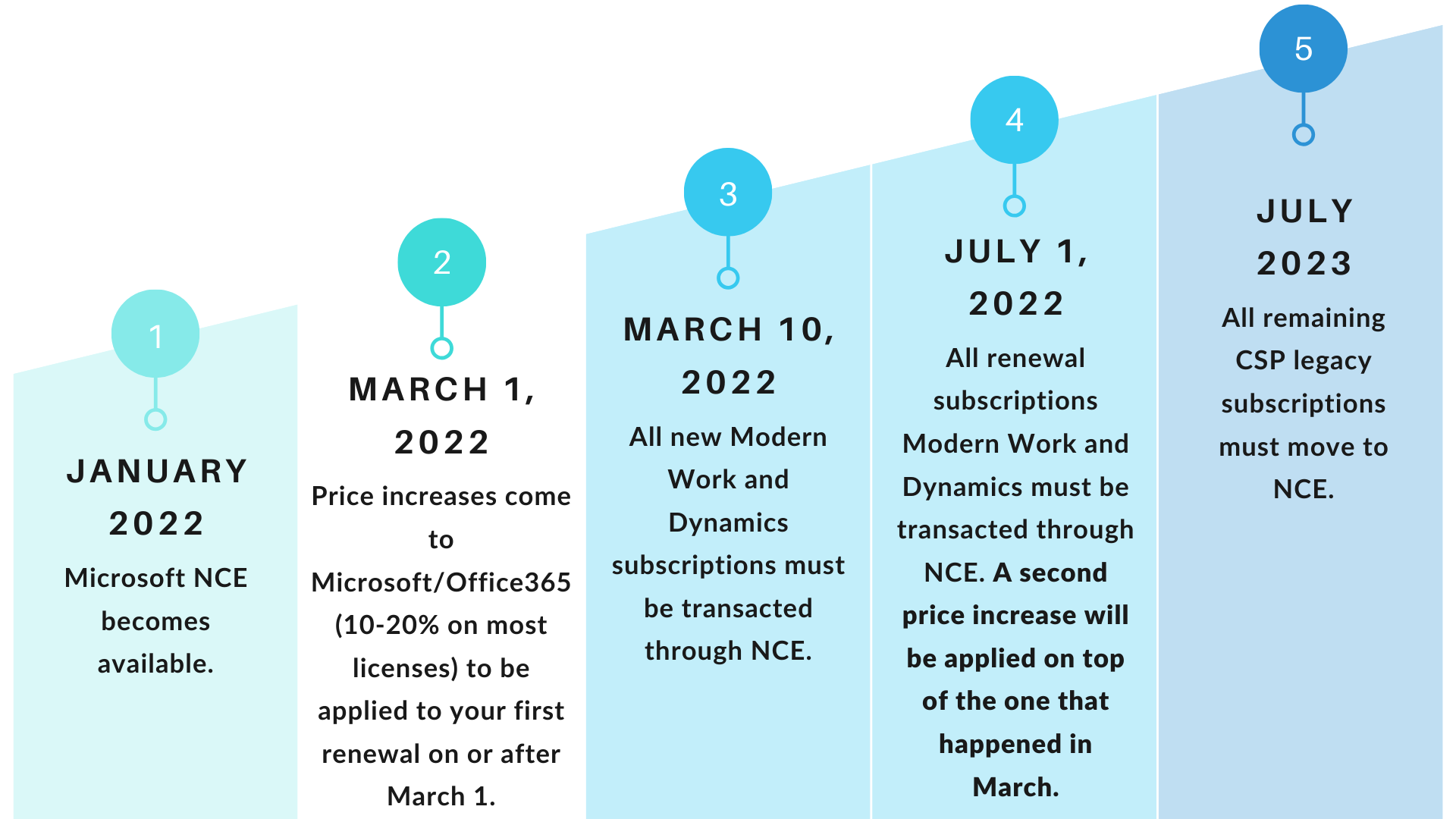 Microsoft is also adding various new features to NCE, including Defender for EndPoint and adding audio conferencing to all licenses, which Microsoft previously sold separately. So, although Microsoft may have increased the price of the license by $2, it will also add $13 worth of new features and products.
Depending on when you switch, there are several discounts you can enjoy. This is a great chance to pay even less than you currently do AND avoid the subsequent price increases in March and July!
January–March: NCE annual subscriptions are available at 5% off.
January–June: Monthly subscriptions are discounted at the yearly price.
If you wish to learn more, please contact your account manager directly or reach out to our team